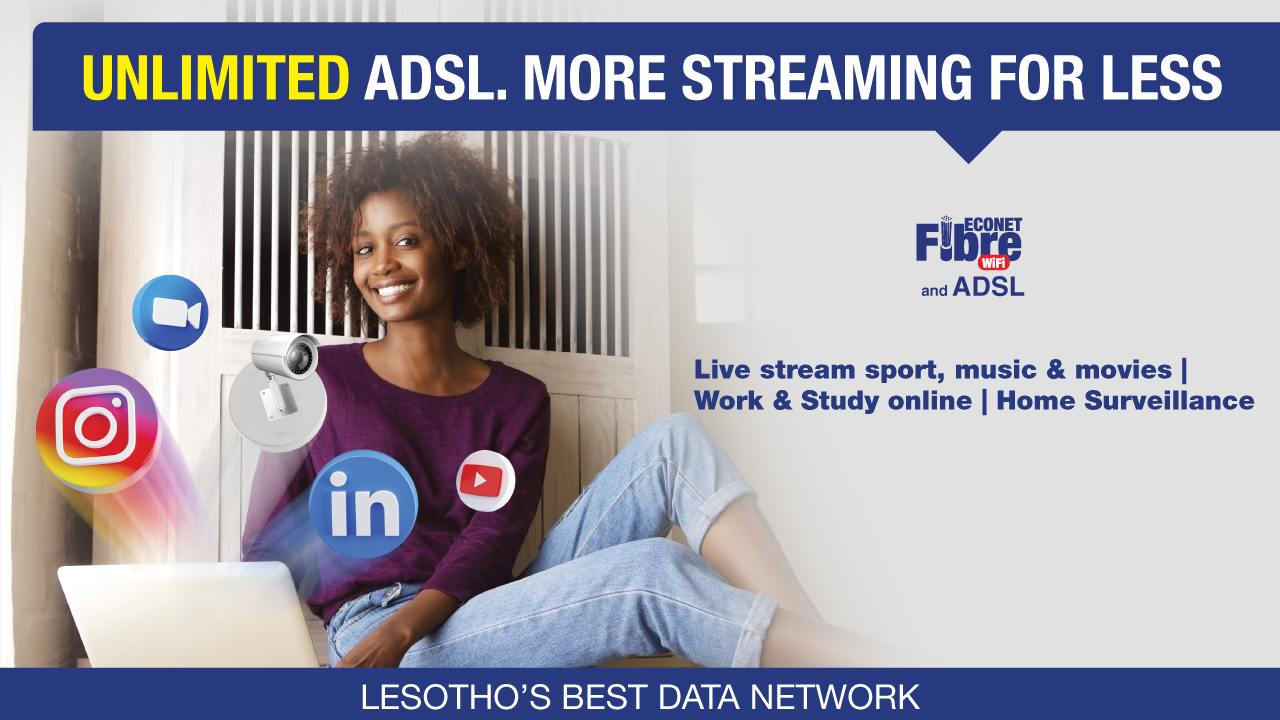 ECONET Telecom Lesotho continues to innovate and create products that meet customers' needs and improve customer experience.
The most recent innovation is the unlimited access to internet offered through different technologies such as Asymmetrical Digital Subscriber Line (ADSL), Fibre and Global System for Mobile communications (GSM) to which hundreds of households and businesses have been connected in the past few months. Through ADSL technology customers in areas with the copper network can also enjoy uncapped internet services.
'Mapusetso Nts'ekhe, acting General Manager: Marketing & Customer Experience says unlimited ADSL connects customers in areas where there is no fibre network.
"The idea is that no customer must be left behind in this age of the internet of things," Nts'ekhe says.
"We are saying if we cannot connect you through fibre then we can put you on our ADSL."
"The uptake shows that customers want unlimited browsing. We are now rolling out the product to all areas that have our copper infrastructure."
The product is one of Econet's ways of keeping the country working during the Covid-19 crisis and beyond.
Nts'ekhe explains that the demand for data during the lockdown restrictions has necessitated the need to reintroduce copper-based products.
"We have the widest copper infrastructure that we have been gradually phasing out but we thought it would be prudent to use it to connect customers in this period."
Earlier this year Econet introduced calling bundles that allow customers to make calls to networks within the country branded Ts'oara Bohle Hohle. "That means our customers don't need to have two phone lines or buy two different local bundles because they can call the other network from the same Ts'oara Bohle Hohle bundles," says Nts'ekhe.
"The important message to our customers is Ts'oara Bohle Hohle calling bundles are not a promotion but a product. This, I must say, is a game changer."
The Next Best Offer promotion has also delivered more value to the customers. For additional half price customers get up to 75 percent more data on bundles. That means customers are paying less for more data.
Nts'ekhe says the recent surge in demand for data has inspired this promotion, adding that more than a third of customers have participated in the promotion since it was launched in mid-July.
"This is part of our mission to make data more affordable"
Econet changed its billing system to protect customers' balances when their calling, SMS, data bundles are exhausted. Customers can now decide if they want to be charged from airtime when they run out of bundles or not. This means customers have freedom to choose how they want to pay for their mobile data, SMS and call services.
"You can follow a few steps to activate the restrictions but our system is designed to make the restriction effective if you have once bought bundles. That protects the airtime not committed to bundles," Nts'ekhe adds.
Econet also has an array of value added services that have helped customers during the Covid-19 pandemic. One such product is Reserve Billing where companies carry the internet charges for customers that use their digital platforms.
As part of efforts to enhance customer experience Econet introduced the Customer Journey which is an extended induction for new subscribers.
"That means we are walking a new customer through our products and services during a 30-day period."