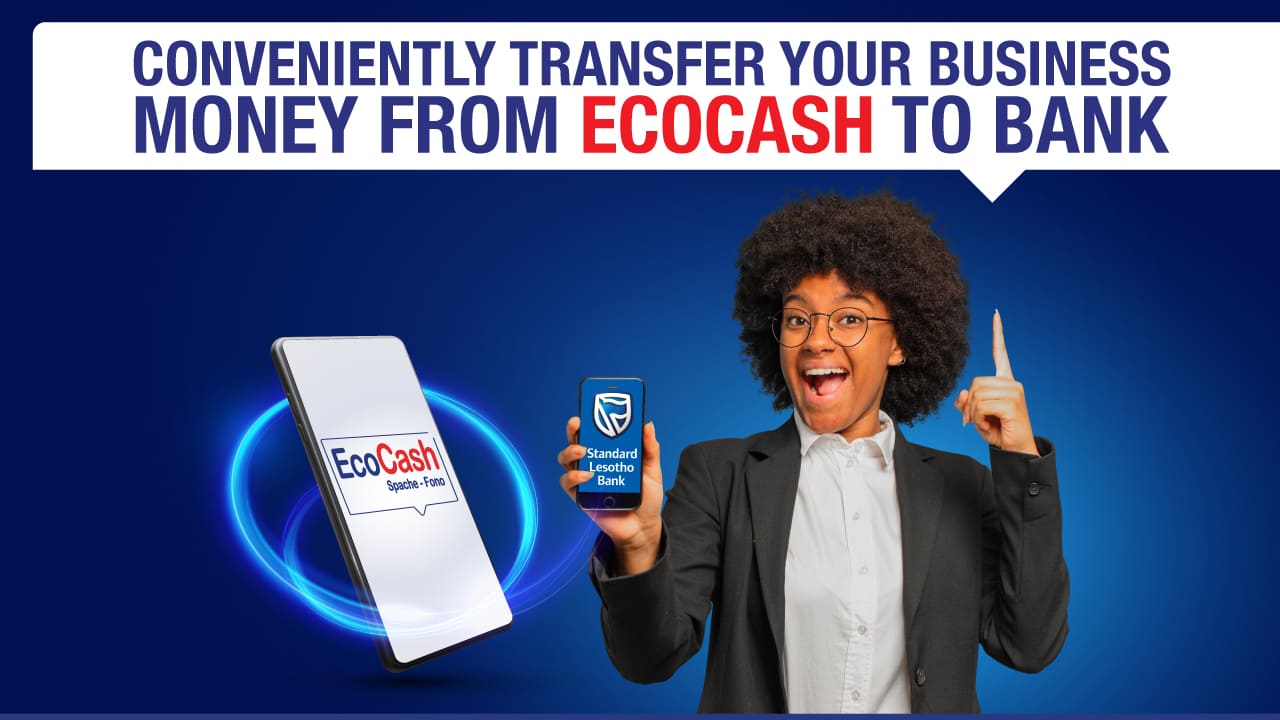 A telecommunications giant that is inspired to change customers' lives, Econet Telecom Lesotho (ETL) is moving forward with another giant in the Lesotho's banking sector, Standard Lesotho Bank (SLB) to strengthen their long-standing collaboration by completing a bank-to-wallet circle and introducing a wallet-to-bank solution.
This was revealed by the representatives of the aforementioned companies during the launch of Wallet to Bank cash solution in a joint statement.
Econet Telecom Lesotho and Standard Lesotho Bank had previously introduced a one-way solution that allows EcoCash subscribers who are also Standard Lesotho Bank account holders to conveniently transfer money from their bank accounts to EcoCash in November 2015.
Speaking on the day of the launch, acting General Manager: EcoCash, 'Makatleho Raphoolo said that as a telecommunications company, their role is to develop solutions that best suit customers even if it is through partnerships with other players in the market. "We serve the same customers who probably have same demands, so it only makes a perfect business sense to join hands and provide customers with appropriate solutions," she said.
"We are launching Wallet-to-Bank at such a critical time when the whole world is being attacked by the novel Coronavirus and we are advised to follow defined health protocols like staying home in order to stay safe" said Raphoolo. "And this can be achieved effortlessly through the movement of money between Econet's EcoCash wallet and the Bank" added Raphoolo.
For Standard Lesotho Bank, this new development is testament to the fact that the Bank has joined efforts to fully embrace convergence in the field of digital technology in the attempt to bring convenience to customers. "We always strive to remain relevant in the market that we serve. We believe in doing valuable things for ordinary Basotho as part of inclusion in the mainstream banking," said Selloane Tsike, Head of Personal and Business Banking. Ms. Tsike emphasized that the timing of Wallet to Bank could not have been more perfect as the world is grappling with COVID-19. She expressed her gratitude to the team from the Bank and Econet for working hard to ensure that this dream becomes a reality, adding that this collaboration is a continuation of many others that ensures that Basotho get only the best products and services through such collaborations.
The service can be used by Econet subscribers, agents, sub agents, super-agents, merchants, head merchants and Payroll users. For channels, that is; agents, merchants and payroll users, there are no limits or charges on cash transfers from the EcoCash wallet into Standard Lesotho Bank account.
The daily limits applicable to other subscribers will be in line with the EcoCash limits related to that particular subscriber and the normal cash-out charges for registered customers will still apply.
Mechanics:
1. Subscriber
A subscriber will initiate a Wallet to Bank transaction from EcoCash menu as follows:
• Dial *100#, select 4. EcoCash and enter PIN
• Select 7. Banking Services from the EcoCash menu
• Select 1. Wallet to Bank
• Enter bank account
• Enter amount to transfer
• Confirmation screen will appear with the Account number entered, account holder's names and amount being transferred; dial 1 to confirm
• The money will then be credited into the selected SLB account number while the EcoCash wallet will be debited with the amount including the fee specified above
2. Channel users
The same process as for subscribers will be followed by channel users to access Wallet to Bank service. However, their EcoCash wallets will be linked to a specified Standard Lesotho Bank account in order to minimise fraudulent activities. The linking of the wallet is done at EcoCash operations office only
• Dial *100#, select 4. EcoCash and enter PIN
• Select 10. Banking Services from the EcoCash menu
• Select 1. Wallet to Bank
• Select account number to be send money to
• Enter amount to transfer
• Confirmation screen will appear showing the details (account number, Names) on the SLB account linked to the wallet
• Dial 1 to confirm
• The money will be moved from EcoCash into the SLB account
• The subscriber will receive a confirmation SMS