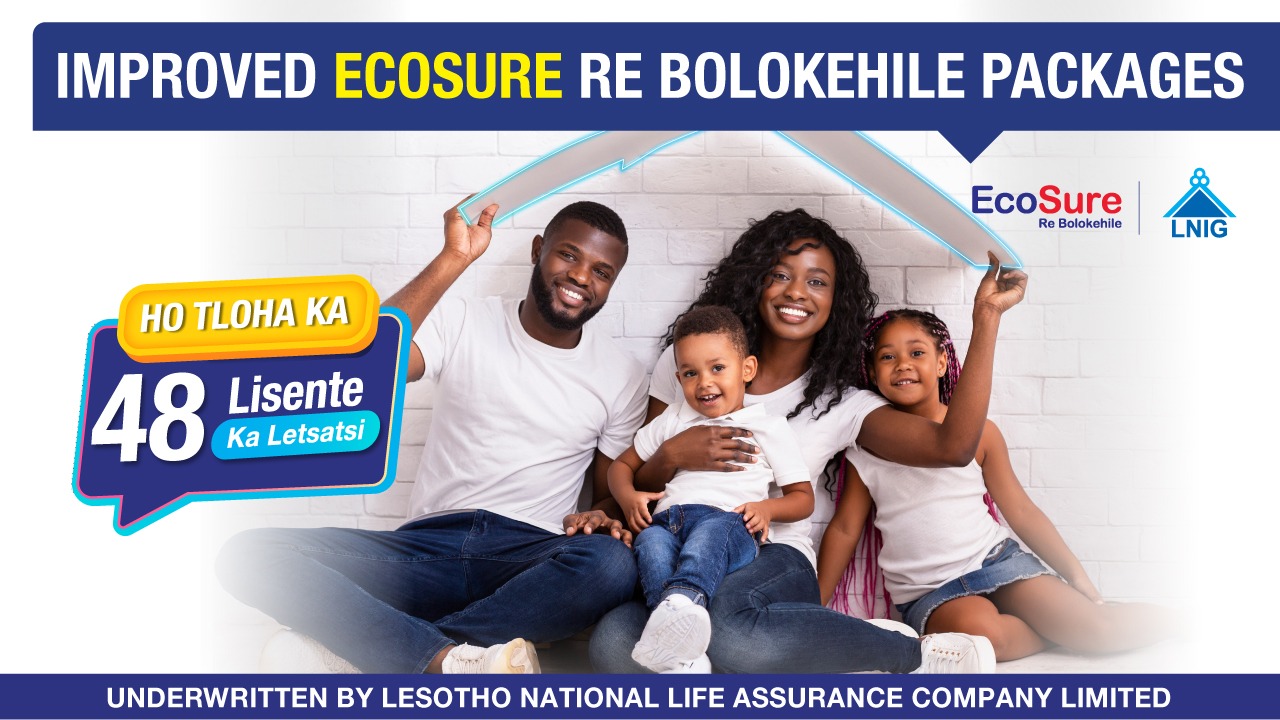 Econet Telecom Lesotho in partnership with Lesotho National Life Assurance Company are further digitizing the insurance experience in Lesotho by dramatically changing the EcoSure product to give much more to customers. The first change is the Sesotho name from Mpolokeng to Re Bolokehile. The new name resonates with the enhanced product which is now catering for family members.
The insurance penetration is poised to improve further with second to none customer experience and greater convenience. These changes that will drive Ecosure to new heights encompass new products and partnerships within Lesotho and beyond.
The most awaited change is the ability to cover other family members under one policy. For instance, customers can now cover spouses, biological and adopted children and parents for both the policy holder and spouse with one SIMcard. Previously it was one SIMcard for one person.
With the improved EcoSure Funeral cover, policy holders can affordably cover aforementioned dependents under any of the new premiums and the corresponding payable cover amount will be paid when such dependent departs.
The minimum age to join the policy remains 18 while the maximum covered age has been adjusted from 65 to 70, meaning much older people from 18 to 70 years can still register.
The waiting period remains 6 months for deaths caused by natural cause which means a member is covered after 6 premium payments.
Another exciting innovation on Ecosure is that customers can now register as sponsors to as many policy holders as they wish. This means that other people's monthly premiums can automatically be deducted from the sponsors' SIMcard.
Although the changes come with slight adjustments on premiums, the net result is that they bring a significant increase on the benefit cover as shown below:
The biggest change starts from the top cover of M49 which used to have a M20, 000 payout and now for M4 less; the policy payout has increased by 50% where M45 premium per month gives M30, 000 funeral cover.
Ecosure has also introduced a new higher premium plan at M75 per month for a whopping M50, 000 payout. The M37 premium that used to pay out M15, 000 cover together with the M25 are being phased out to be replaced by M30 plan which comes with M20, 000 cover.
The M9 is also phased out and the minimum premium starts from M15 per month while the benefits increase 3 fold. That means for an additional M6 on the old M9 premium, the cover increases from M2, 500 to M10, 000. For those on the M14, an additional one Loti doubles the cover from M5, 000 to M10, 000.
Acting Head of Econet Services, 'Makatleho Raphoolo says these changes mean there is a huge increase in the cover and more flexibility on the conditions. "We have listened to our customers' request for a family cover product and Re Bolokehile is the answer" said Raphoolo. "The idea is to keep improving the product and enhance value to our customers. That has always been the spirit of Econet, to change lives" she added
About Ecosure
EcoSure also known as Mpolokeng in Lesotho, launched in 2013, is an insurance product offered by Econet Telecom Lesotho underwritten by Lesotho National Life Assurance Company. It is easy to register on a mobile phone through *100# from anywhere at any time and premiums are conveniently deducted from airtime or EcoCash wallet, saving time and travelling costs.