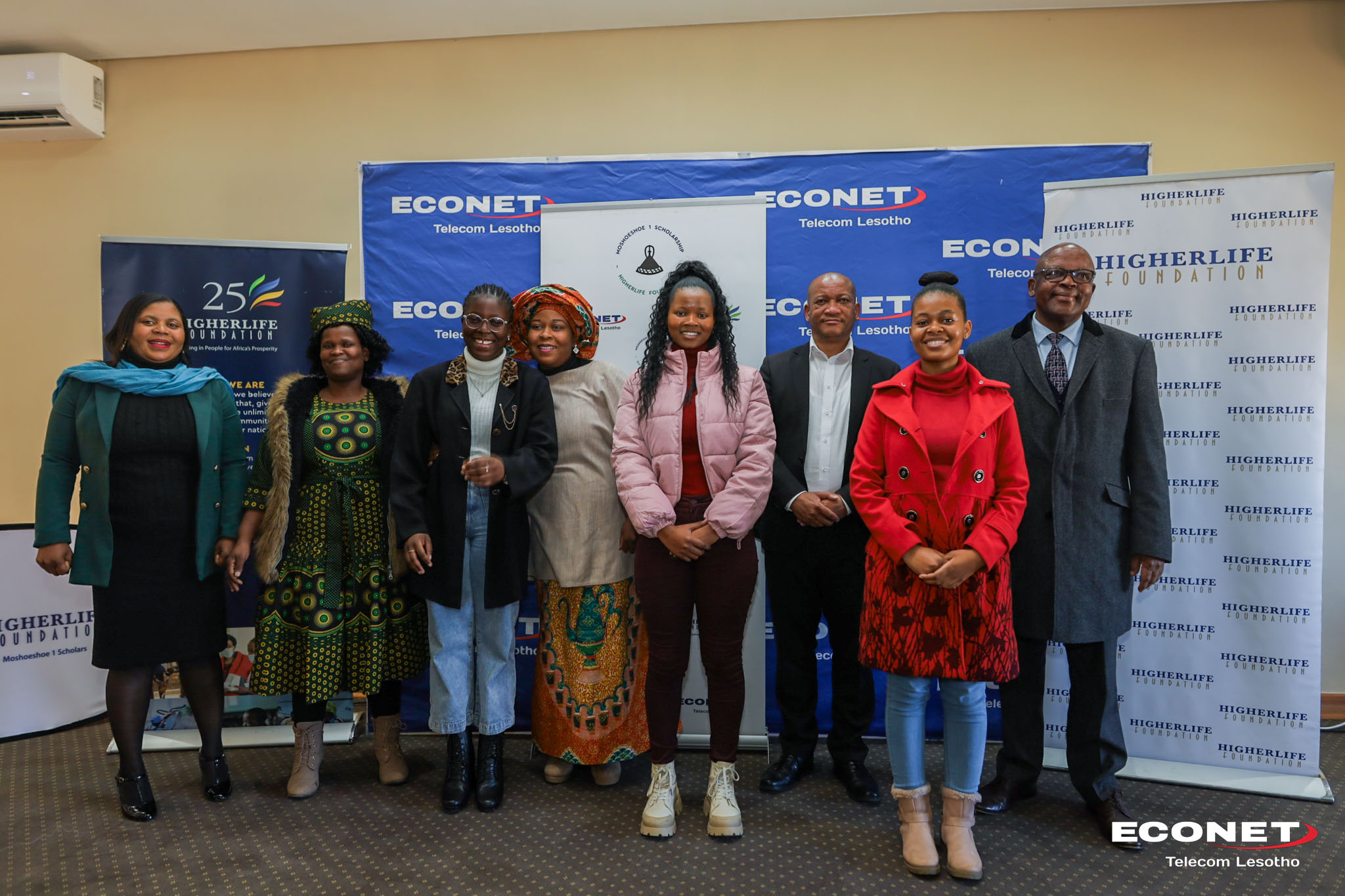 Maseru, 1stAugust 2023: Econet Telecom Lesotho through Higherlife Foundation Lesotho (its social impact investment organization) held a farewell ceremony for three Basotho children who will be leaving Lesotho for the United States to further their studies.  
'Mapalo Esther Tlhonolofatso Makwaza, Katleho Pule, and Moliehi Seipati will leave the mountain Kingdom on the 8th of August 2023 to study at the University of Oklahoma, Swarthmore College in Philadelphia and Luther College, in Iowa respectively.
Econet's Chief Executive Officer, Mr. Dennis Plaatjies mentioned that HigherLife Foundation has been investing in human capital to build thriving individuals, communities and sustainable livelihoods for over 25 years and impacted the lives of Basotho for 12 years. He also iterated that the foundation is currently focusing on four key pillars: Education Support, Leadership and Lifelong Development, Institutions (Children's Homes), and Additional Opportunities for HigherLife Foundation Fellows.  The foundation is investing in a thriving Africa where every person finds their vocation and is empowered to develop their communities for economic prosperity.
"Over 1,616 scholars have benefitted from HigherLife Foundation Lesotho scholarships since 2011 and we are extremely proud as Econet Telecom Lesotho to have made such a positive impact in many families." said Mr. Plaatjies.
Mr. Plaatjies further indicated that Seven (7) HigherLife scholars are studying in the US including 'Mapalo Makwaza, Katleho Pule and Moliehi Seipati but two (2) will be graduating this year. One (1) is currently at Waterford Kamhlaba United World College in eSwatini, three (3) are doing their A-levels in Zimbabwe while four (4) are studying at Star Leadership Academy Zimbabwe.   In a nutshell, eighteen (18) fellows have graduated from some of the United States' prestigious Universities and Colleges such as Harvard.
Access to quality education coupled with university preparation support and mentorship programs facilitated by HigherLife Foundation Lesotho have enabled the successful entry of Higherlife Foundation Scholars from Lesotho into Ivy League universities and this is one of many positive results under Education support initiative.
Highlife Foundation Lesotho remains committed to make life changing impact in a bid to help overcome challenges associated with poverty and make available opportunities that uplift the lives for the better thus contribute to the country's economic growth.
MEET HIGHERLIFE FOUNDATION SCHOLARS GOING TO STUDY IN THE US:


'Mapalo Esther Tlhonolofatso Makwaza is a 20-year-old girl of Sotho-Zambian ethnicities born and bred at Tsénola, Maseru.


She started her primary education at Joy to the World Primary School where she passed with a merit and was among the Top-8 students countrywide. She went to further her studies at Holy Family High School in Leribe. She joined HigherLife Foundation Lesotho in 2018 and was selected to further her studies at Waterford Kamhlaba United World College of Southern Africa in eSwatini on a full scholarship from Form 4 all the way to IB2. She will be leaving the country for the United States of America to pursue Investigative Journalism at the University of Oklahoma.
She says she is incredibly grateful to God for His mercy, blessings and doors that have been opened to her through the support of HigherLife Foundation Lesotho. Mapalo aspires to build an art school.



Katleho Pule

is a 21-year-old girl from Ha-Thetsane, Maseru. She joined HigherLife Foundation Lesotho in 2017 when she was doing Form B at Lesia High School.



She was awarded the humanitarian scholarship under the Higherlife Foundation to undergo an intensive leadership program at the Star Leadership Academy in Zimbabwe after completing LGCSE. He completed her Cambridge Advanced Level studies at Watershed College in Marondera, Zimbabwe with particular focus on Mathematics, Chemistry and Biology.
She also did an English General Paper where she received the Best General Paper Results Award from Cambridge for the June 2022 series.
Katleho will be leaving Lesotho for the United States of America to further her studies at Swarthmore College in Philadelphia with Majors in Biological Sciences.
She is passionate about playing a part in the medical field and she is forever thankful to Higherlife Foundation for the unwavering support in all aspects of her life and the opportunities presented before her.



Moliehi Seipati

is a 19-year-old girl born and raised at Ha-Ts'osane in Maseru.



She began her primary school education at We Care English Medium and later joined Methodist High School where she first came across HigherLife Foundation Lesotho in 2017.
Through HigherLife Foundation Lesotho, Moliehi completed IB2 Diploma in 2022 at Waterford Kamhlaba UWCSA, in eSwatini.
She will be leaving for Luther College in Iowa, United States of America to major in Economics. She attributes her educational successes to Higherlife Foundation and even aspires to open school with inclusive environment for talented children as a token of appreciation for the opportunities she has been afforded.
-END-