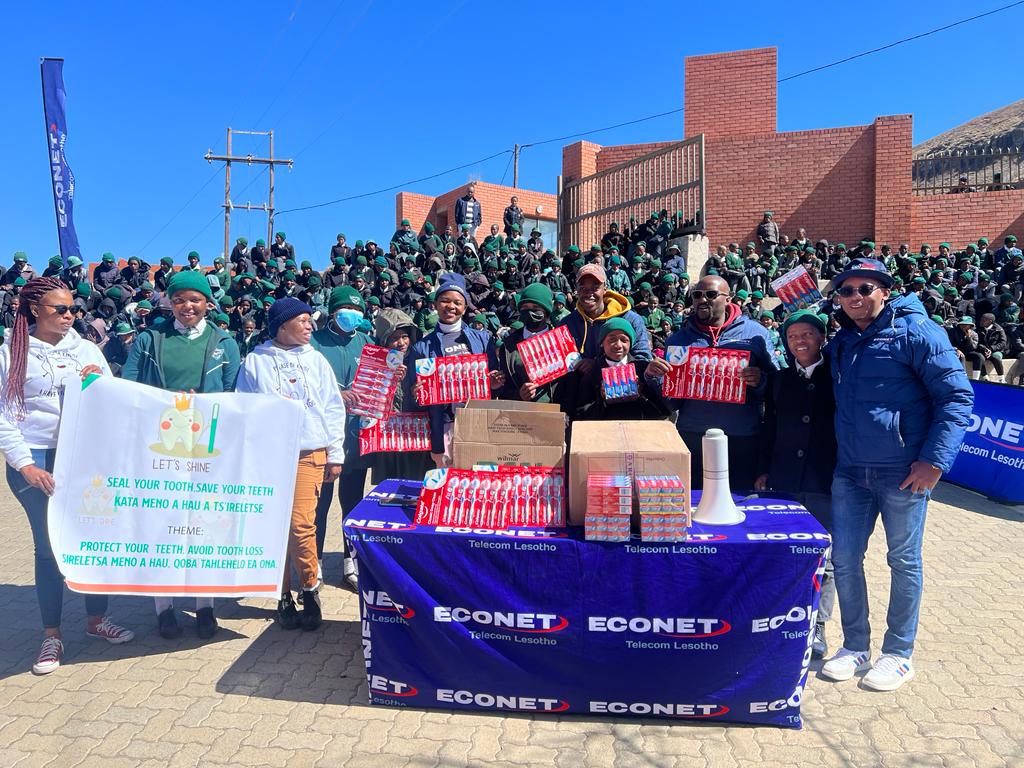 28th August 2023, Thaba-Tseka,: In commemoration of Oral Health Awareness Week 2023, telecommunications giant Econet Telecom Lesotho is thrilled to support the Ministry of Health's Oral Health Department in Thaba-Tseka in its efforts to promote oral hygiene across different communities in the district under the theme, "protect your teeth and avoid tooth loss."   
To make this commemoration a success, Econet Telecom Lesotho has donated toothbrushes and toothpastes worth M10,000.00 to the Thaba-Tseka District Health Management Team (DHMT). Oral Health Awareness Week is earmarked to help upscale and intensify the provision of Oral Health services at community level and also offer these services at grassroots level for free. This year's commemoration of Oral Health Awareness week services is targeting primary and high school pupils as well as herd boys.
"We are incredibly overjoyed as Econet Telecom Lesotho to extend a hand and support an initiative of this magnitude that will help improve oral hygiene for the residents of Thaba-Tseka," said Econet Telecom Lesotho's GM – Marketing Communications and Customer Experience Ms. Mapusetso Nts'ekhe.
Mrs. Nts'ekhe went on to further express her happiness that through Econet Telecom Lesotho's compassion, the disadvantaged groups such as herd boys and children from poor backgrounds will be afforded access to toothbrushes and toothpastes to help improve their oral health for the better.
The District Health Management Team (DHMT) praised Econet Telecom Lesotho for this generous donation, noting that most families in the districts are struggling to make ends meet. The DHMT indicated that these basic oral health necessities made available through Econet will make a huge difference in the lives of the targeted groups.
Oral Health Awareness Week commemoration is testament to our continued drive as Econet Telecom Lesotho to rigorously participate in efforts that improve Basotho's wellbeing across the Mountain Kingdom. It also underscores the values to which we subscribe to as Econet Telecom Lesotho.
For more information, please contact the ETL PR office at 2221 1000.