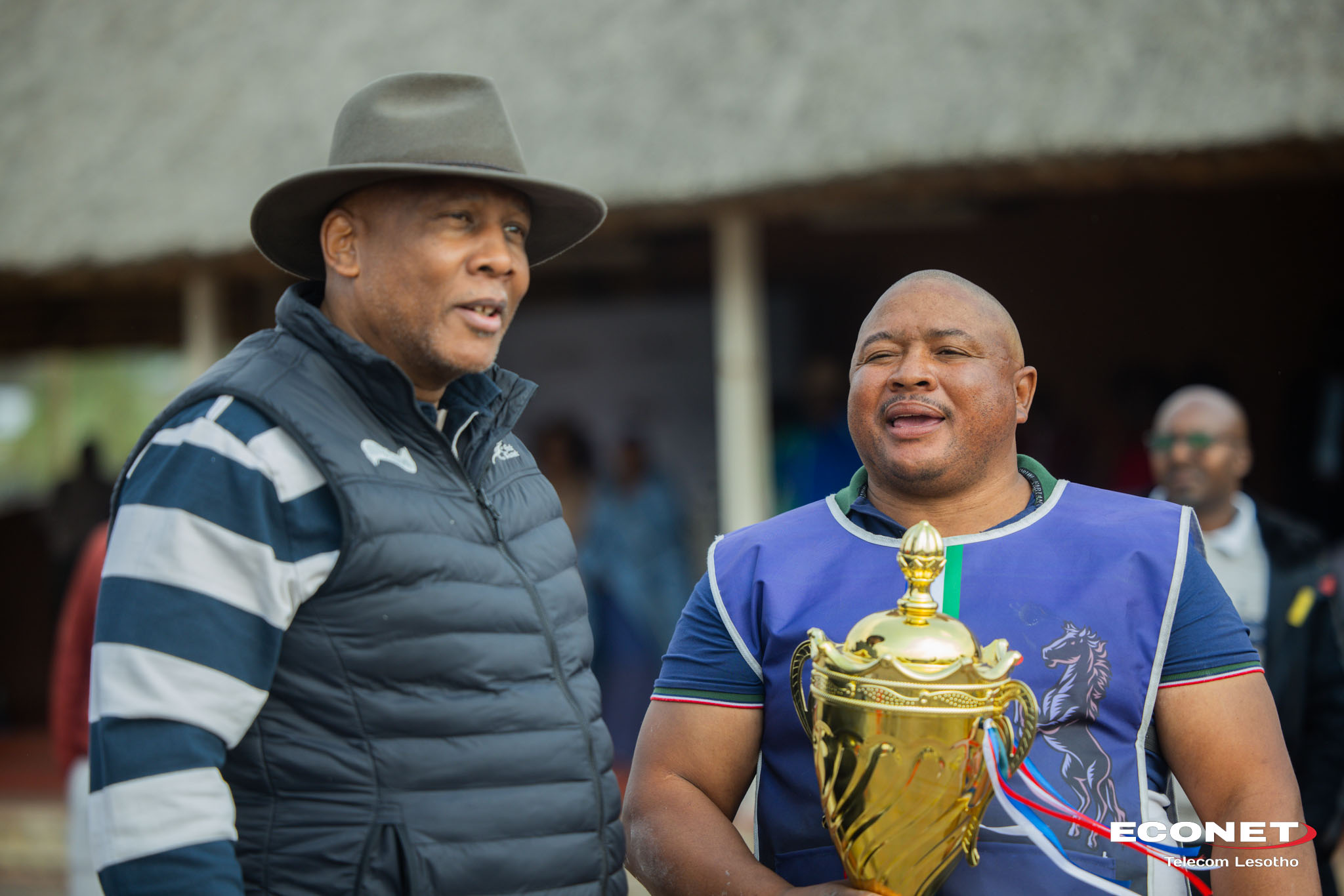 23rd September 2023, Mohale's Hoek – In honor and celebration of His Majesty King Letsie III's 60th birthday, multitudes descended Mohale's Hoek for the Econet Telecom Lesotho' sponsored Royal Cup that fused horse racing event and the designer showcase today.
Hosted by Bienvenue, the Royal Cup stands as Lesotho's grandest occasion which – beyond the races - offered a flourishing marketplace with a delightful array of hospitality services, live music and entertainment, captivating fashion shows, and vibrant stalls showcasing a wide variety of products.
Ms. 'Mapusetso Nts'ekhe, Econet Telecom Lesotho's GM – Marketing Communications and Customer Experience applauded the great spectacle that the Royal Cup was and went on to underscore the telecommunications giant' steadfast commitment to support endeavors aimed at promoting and preserving Lesotho's rich history and cultural heritage.
'As Econet Telecom Lesotho, we injected M500,000.00 into The Royal Cup to celebrate His Majesty King Letsie III's life as an epitome of the values and cultural beliefs of the Basotho Nation. We strongly believe that it is important that we continue to join forces as stakeholders in our collective efforts to contribute to the country's development agenda and in celebration of the rich heritage and cultural tapestry of the Kingdom of Lesotho,' said Mrs. Nts'ekhe.
Furthermore, Mrs. Nts'ekhe elaborated that The Royal Cup mirrors the Econet Telecom Lesotho's undertaking to walk side-by-side with customers, providing them with high-quality services across Lesotho while commemorating the extraordinary and life-changing journey of the Basotho nation.
On his part, Mr. Motlatsi Russell of Bienvenue expressed his delight concerning the Royal Cup and pointed out, "It has been an absolute honor and privilege to partner with Econet Telecom Lesotho to pull an event of this magnitude for the horse racing sector and the fashion industry as we celebrate His Majesty King Letsie III." Mr. Russell added that being able to bring on-board Lesotho-born Thabo Makhetha, an esteemed fashion designer and witnessing the amazing work he did for the Royal Cup with Lesotho's designers has been an incredible experience for him and all the designers that participated.
About ETL:
Econet Telecom Lesotho is a subsidiary of Econet Wireless International, offering a wide range of voice and data services through various technologies, ensuring extensive and high-quality network coverage across Lesotho.
About The Royal Cup:
The Royal Cup was co-founded by His Majesty, the late King Moshoeshoe II, together with British settlers in the early 1960s. This historic event has evolved into a cherished tradition that celebrates the spirit of Lesotho and brings communities together.